Media
Posted on
Fri, August 15, 2014 22:26:12
July 27th 2014
Holcombe Duo at Snettisham Beach, Norfolk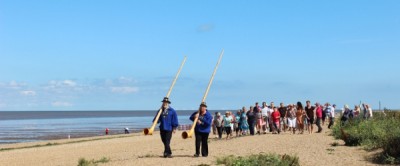 Holcombe Duo appeared on Anglia TV 
Media
Posted on
Tue, February 09, 2010 10:32:25
This article appeared on the centre pages of the Spring edition of Switzerland in the UK – the quarterly supplement to the international Swiss Review which is distributed by the Swiss Embassy to every Swiss home in the UK.
Media
Posted on
Mon, October 26, 2009 12:13:31
July 31st 2008
A very busy day! Following a live interview and performance at 8:30am on BBC Radio Lancashire in Blackburn, Holcombe Duo appeared 'live' from Jumbles Country Park with Colin Sykes on BBC's 'North West Today' at 1:30pm. Later in the day, at 6:30pm, the Duo were at the BBC Manchester studios for a live performance and interview with Gordon Burns, Ranvir Singh and Dianne Oxberry.