As French horn players, we both developed an early interest in the sound and romance of the alphorn. On our first visit to Switzerland in 1987, a 'Folklore' evening in our Wengen hotel at last brought us together with an alphorn (probably much to the embarassment of our two young sons!)
Five years later we returned to Wengen and were fortunate to be introduced to a local player and maker of alphorns, Willi Michel of Lauterbrunnen. A damp Sunday morning became a magical experience as we learned about the instrument and how to play it in Willi's workshop: he seemed please with our progress because, at the end of the morning, we took the horns out into the street and played trios for the neighbours! A few days later we had the great honour of opening the Folklore Evening at the Hotel Falken, Wengen, playing quartets with Willi and Armin Sigrist. A photograph of the performance appeared in the following year's brochure of a well known travel company!
Although our holidays in Switzerland have become almost an annual event, opportunities to play the alphorn were confined to a few precious minutes on instruments borrowed from players at various gatherings – Willi, Heinz Balmer and the 'Harzis' (Ernst Schildt and his daughters, from Iseldwald) have helped us over the years. On our first visit to see Willi, Helen bought a wooden mouthpiece: partly as a souvenir but also as a reminder, as it sat on a shelf in our sitting room, of our dream one day to have our own instruments.
In 2007 our dream came true at last. Through rather a strange set of circumstances, in August we took our recently purchased alphorns by train to Switzerland: we had bought our Swiss-made instruments (by Stocker, Luzern) in Friesenheim, Germany a few weeks previously. Arriving in Grindelwald late on Saturday evening, by mid-morning on the Sunday we were on top of the Maennlichen mountain ridge to take part in the 'Grosses Alphorntreffen' that takes place there every three to five years. It was thrilling to be part of a performance by more than 100 players – our first in Switzerland on our new horns!
In the same year we also played at the street festival in Grindelwald and the mountain restaurant 'Aellfluh' (with Heinz Balmer).
Although the alphorn is deeply rooted in Swiss tradition, we are keen to widen interest in the instrument and its music in Britain.
As with many Swiss groups, we chose the name 'Holcombe Alphorn Duo' as a homage to our home area: Holcombe Hill, overlooking Ramsbottom in Lancashire, is our local hill, or 'Hausberg'.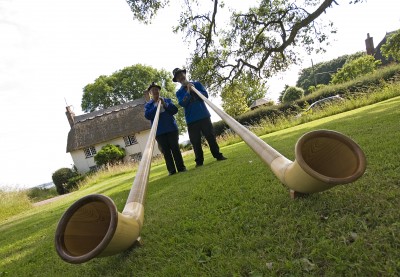 Browse our photo book ALPHORNS 1992 – 2014