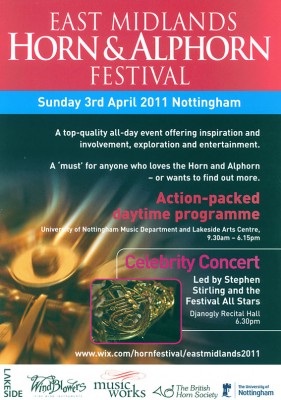 How many alphorn players are there in England?
Come and join us for the 1st Alphorn Festival in England on Sunday 3rd April in Nottingham.
Registration is at 9.30am followed by the ALPHORN players massed blow led by HOLCOMBE DUO
There is a recital/lecture by Frances Jones on the ALPHORN and an illustrated talk by Neil and Helen Grundy about their ALPHORN experiences in Switzerland.
The ALPHORNS will be performing in the Recital at 3pm and also in the concert at 6.30pm
Please email hornfestival@hotmail.co.uk or alphorns@holcombeduo.co.uk for more information.