2011
April 3rd East Midlands Horn and Alphorn Festival
http://www.bbc.co.uk/news/uk-england-nottinghamshire-12957289
For the first time ever, in England, the alphorn was featured with special dedicated sessions and talks during the day for players and enthusiasts alike. The workshops and talks were led by Frances Jones (Amazing Alphorn) and Helen and Neil Grundy (Holcombe Duo). Performances given by Frances, Helen and Neil were enthusiastically received in both the afternoon recital and evening concert, which took place in the Djanagly Recital Hall, Nottingham University.
April 9th Wedding reception at Sedgebrook Hall, Northamptonshire
Holcombe Duo played an original composition for Mr and Mrs Jonathan Grundy when they arrived at their wedding reception.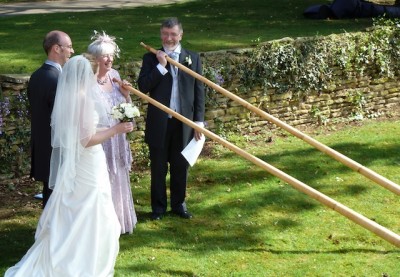 May 3rd Bolton Mountain Rescue headquarters, Bolton
Official Handover, Blessing and Dedication Evening Ceremony for three new Team Land Rovers, Team Minibus and the Search and Rescue Boat. (Inclusive of three new MR Stretchers)
'Upon arrival all were greeted by the highly appropriate musical talents of team supporters and friends Neil and Helen Grundy (The Holcombe Duo) who serenaded all with their Alphorn playing (Fantastic)' http://www.youtube.com/watch?v=4UHum_KJSS8
May 20th Bury Parish Church 275th Lunchtime Concert in aid of Bury Hospice
Holcombe Duo presented a programme accompanied by organ (Steven Callow), piano (David Benger) and brass quartet (Clavian Brass Ensemble). The appreciative audience were also entertained by the jodel duo, "Die Streich Schwestern", who sang three Swiss alpine songs (the third with alphorns).
July 4th Jumbles Country Park
July 5th Bolton Rotary
Lunch and demonstration with Bolton Rotarians at Smithills restaurant, Bolton. A donation of £50 was made to our charity 'Bolton Mountain Rescue'.
July 9th Bolton Symphony Orchestra Albert Hall, Bolton.
Holcombe Duo performed 'Uf d'r Aeugstere' offstage from opposite sides of the hall. This was followed by a performance of the Alphorn Ballad by Dennis Armitage with the Bolton Symphony Orchestra, conducted by Robert Chasey.
July 30th and 31st St. Anne's Church, Chapeltown, Lancashire.
Holcombe Duo performed in the grounds of the church as visitors arrived for the annual Flower Festival.
August 3rd – August 23rd. Visit to the Bernese Oberland and Koblenz, on the Rhine.
Beatenberg Alphorn Treffen (Sunday 21st August) photos on flickr
http://www.jungfrauzeitung.ch/artikel/113455/
September 16th Garden Party in Epsom, Surrey
September 17th Katie and Simon Mathieson's Wedding at Old Thorns Manor, Liphook, Hampshire photos
October 4th Wakefield Cathedral. Lunchtime recital with jodel Duo Die Streich Schwestern photos